YES! – We are going virtual this year. Our production team is working to put together a great virtual program for our attendees.
VIRTUAL TRAINING OPPORTUNITY:  
Hands-on Introduction to Quantum Computing
Instructor:  Steve Margolis
When: Monday 10/26; 9:00 am – 5:00 pm
Cost: Free – Registration is required
Though early in its development, quantum computing is now available on real hardware via the cloud through IBM Quantum. This radically new kind of computing holds open the possibility of solving some problems that are now and perhaps always will be intractable for "classical" computers. Qiskit is an open source quantum computing framework that enables the IBM Quantum community to experiment with algorithms and quantum computing for themselves. In this workshop we will walk through some basic quantum programs on the IBM Quantum Experience platform and create these same programs in Python using Qiskit. We will run the programs both on simulators and on actual IBM Quantum computer hardware.
Audience:  Anyone interested in learning more about Quantum Computing.
Prerequisite: A working knowledge of Coding (Preferred Python) is desirable but not mandatory.
Expectations: Expect to spend a day of lecture and hands on exercises using Qiskit via Jupyter notebooks. You will learn the essentials of Quantum Computing and emerging use cases.
VIRTUAL TRAINING OPPORTUNITY:  
Being An Effective CISO
Instructor: Dr. Eric Cole
When:  Mon/Tue/Wed 10/26-28; 1:00 pm – 3:00 pm each day
Cost:  $999.00
Dr. Eric Cole will provide the attendees information and techniques that will help him/her become an effective CISO in today's ever-changing business world.
Audience:  Anyone interested in learning more about how to be an effective CISO or Information Security Leader.
PREREQUISITE: None – Just a passion for learning. 
WHAT TO EXPECT: Expect to spend a total of 6 hours learning the skills and techniques needed to be an effective CISO. 
OUR FEATURED SPEAKERS for our VIRTUAL SUMMIT 2020 INCLUDE:  
Dr. Eric Cole
Topic:  The world has changed in 2020 and while most people are focused on the economy and business survival, cyber security needs to be a top concern.  Most organizations have been focused on a remote workforce and making changes to their IT infrastructure which created several challengers.  First, many companies are exposed and have been compromised and don't even realize it.  Second, with a remote workforce the traditional defense in depth model of firewalls and IDS is less applicable with people not working in an office.  Finally the attacker has increased their attack vectors recognizing that many companies are less focused on cyber security.  This is an amazing opportunity to excel but to do so people working in cyber security need to understand the new rules.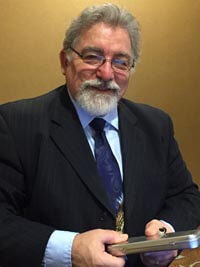 Mr. John DiMaria
Topic:  To become one the world's 'smart nations', a sustainable, pragmatic approach is necessary, ensuring the people, processes and systems are secure. With predictions that three-quarters of the world's 9 billion people will be city-dwellers by 2050, it's vital we ensure cities provide a safe and pleasant environment that is sustainable and resilient to change.
Smart cities harness digital technology and data to enable organizations to perform better, boost well-being and respond to local and global challenges – presenting a huge opportunity but risk as well. In particular, information breaches that compromise trust and incur material loss.
John will discuss how new technologies, in particular the Internet of Things, can transform businesses. He'll explore pitfalls, ranging from minor operational inconveniences to huge potential liabilities and brand damage. He'll also share how the balance of risk and reward with IoT can enable cities and their environments to gain benefits from connected technologies for future success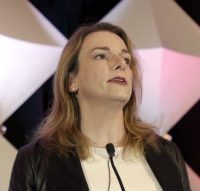 Alyssa Miller
Topic: It wasn't long after that the concept of DevSecOps began to emerge as security practitioners attempted to keep application security practices engaged in software delivery. However, recent surveys show that even in organizations that have adopted a DevSecOps model, security is still often viewed as a bottleneck. This can undermine the promise of DevSecOps to deliver a culture of shared responsibility for security.Hacker, former developer, and application security advocate Alyssa Miller dives into the key issues that keep DevSecOps culture from becoming a reality. Alyssa will provide insights from recent studies that have looked at the state of DevSecOps and share evidence that organizations are still failing to mature their processes in order to achieve the ideals of a shared responsibility culture.
In addition to our featured speakers, we will also provide:
* Virtual training opportunities
– Being an Effective CISO (3-Part over 3 days, 6 hr class from Dr. Eric Cole)
– Hands on Introduction to Quantum Computing (1-day, 8 hr class from Mr. Steven Margolis)
* Live and recorded and speaker sessions to include topics, such as:
– Introduction to Quantum Computing
– Anomalous Behavioral Analytics is About to Make Things Harder for the Bad Guys
– Defenses & Dangers: Understanding Crypto Miners, Deepfakes and AI Camouflaged Malware
– Failed Response: Breach Response For Leadership
– 2020 Challenging Business Environment –People — Right Information to all Audiences
– Look! There's a Threat Model in My DevOps
– Developing Your Identity Strategy
– Stopping Scammers One Skimmer at a Time
– Rock the CASB – Top CASB Use Cases
– Co-Managed IT services for the Small-Medium Business
And many, many more
* Plenty of time for Q & A
* Virtual hangouts and networking sessions
Check back often as updates are being made to our program almost daily! Stay Tuned, Stay Safe and Stay Well!